Afghanistan Listening Session
VFW Post 12173 will host a listening session on august 31
at 7:30 pm
we offer this opportunity to share thoughts, provide support, or simply listen with other combat veterans who get it.
mental health professionals will be there to help guide the conversation.
combat veterans and family members from all eras are welcome.
http://www.eventbrite.com/e/afghanistan-listening-session-tickets-168665094839?utm-campaign=social&utm-content=attendeeshare&utm-medium=discovery&utm-term=listing&utm-source=cp&aff=escb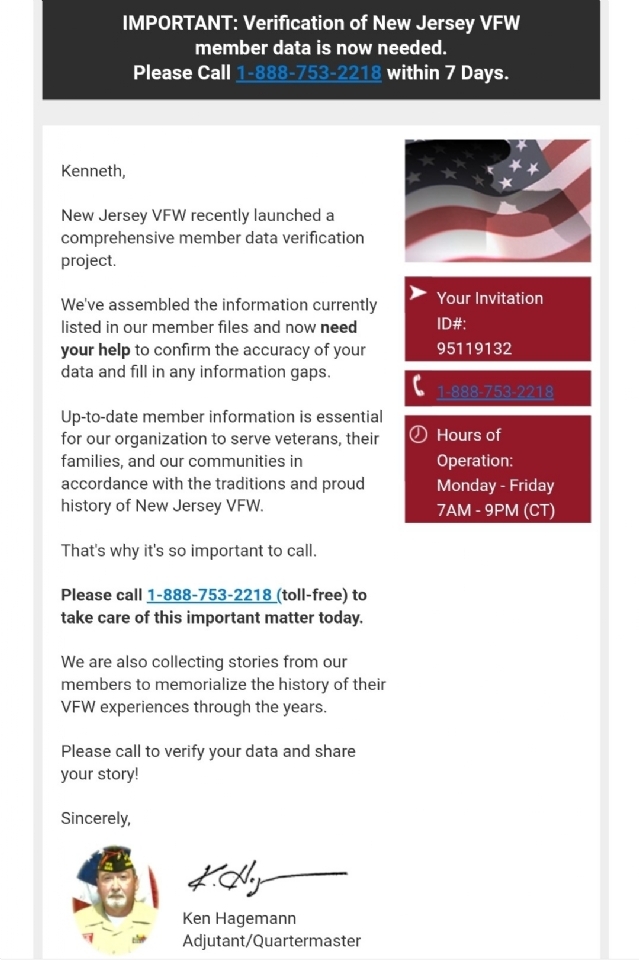 This email or postcard you received on behalf of the VFW is legitimate. This campaign was also conducted in 2015. The data received assists us in keeping out member's contact information up to date. Our contract with PCI stipulates that your information cannot be sold or used for any other business purposes, but if you have any concerns please opt out and do not respond. Additionally, you are not required to submit an oral history or purchase anything. The Department does receive a royalty for each book sold and the profit will be used for our veteran and military support programs. The Commander encourages your participation, but it is voluntary and not required.
If you have any questions please contact the State HQ at 609 393-1929.
Thank you for your service,
Ken Hagemann
State Adjutant
The new 2021-2022 directory will be published by mid July.